Interactive and location-based listening experience
Social Score is the first interactive and location-based listening experience that can be played directly in the browser and negotiates the potential introduction of a social scoring system in Germany.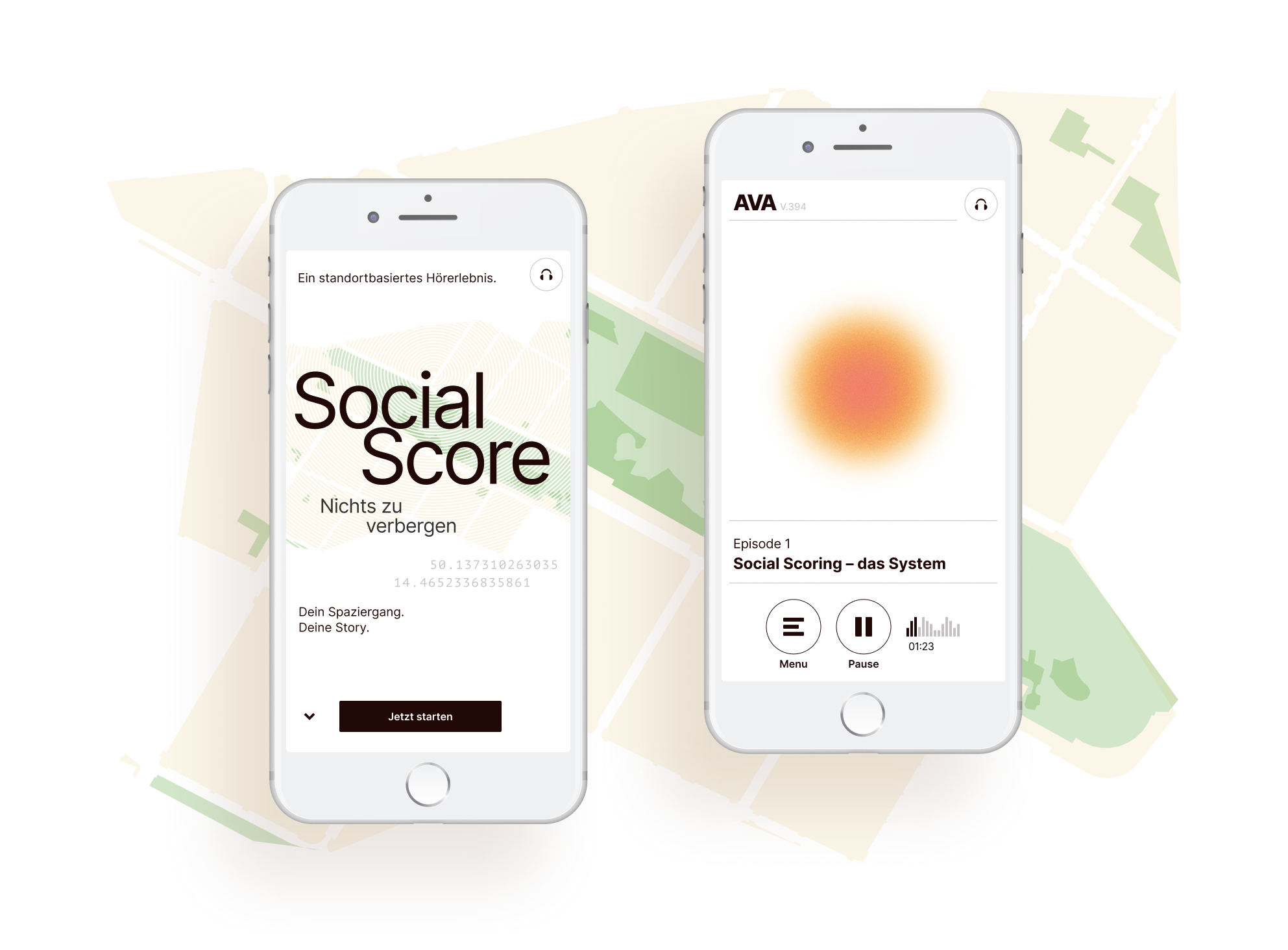 The listeners experience the advantages and disadvantages of such a system during a free walk with the fictitious AI « AVA ». The audio experience is composed live and individually by analysing GPS position data. comparing them with a database of location and object data and using a synthetic voice.
Social Score was funded by MIZ Babelsberg in 2019 and is based on the « Dynamic Audio » concept we developed at sansho. It's an approach for data-controlled audio output based on realtime metadata from the listener such as GPS coordinates, statistics or personalised data sets.
Recognition:
Finalist, Grimme Online Award 2020, DE
Finalist DOK.Digital 2020, Munich, DE

Functionality
Social Score is at its core a listening experience and works either with pre-produced or live generated content via text-to-speech. Content can either be integrated in a linear fashion or be linked to a condition in combination with a so-called trigger. Triggers can be e.g. location data, but also data sets or decisions made by listeners within the experience. Our format works as a stand-alone webapp or as an embedded function within a website, e.g. a daily newspaper.

Process
The listeners start on the project website, put the headphones into their ears, enter their name and just start walking. The audio play then progresses dynamically in relation to the current environment. This means that depending on where the users are located, the most suitable content is selected and played. The content itself is then personalized to the listeners to ensure it is as relevant as possible.
Technology
Our Dynamic Audio Framework consists of 100% web technologies. That means it is device and platform independent.
For Social Score we wanted to generate all content dynamically. Therefore the content blocks are generated live via a text to speech interface.
In addition to independently produced projects such as Social Score, we are also working on a construction kit that journalists can use to create dynamic stories themselves.
Current features
the creation of a dynamic and personalized story
the integration of personalized content via so-called Point of Interest (POI), via GPS coordinates and comparison with Open Streetmap
the creation of own POIs
Question & Answer Interactions with the listeners
Create decision paths to provide choices for users
Current integrations
machine-generated audio output of text content via Google Text-to-Speech
the retrieval and use of all infrastructure and geodata from the Open Streetmap database
the integration of pre-produced or public data sets, such as rental prices, crime statistics, etc.
Dynamic Audio
While visual and text-based formats have adapted to the possibilities of the digital world over the last 20 years, we see a huge untapped potential in the implementation of auditive formats - and apart from the content innovation of e.g. podcasts - to develop new formats with the help of contemporary technologies and to distribute them personalized to the users.
We are convinced that this is relevant, as we already live in a barely tangible abundance of content. The current attention economy has sparked an unprecedented discussion about relevance.
But from an author's point of view, what is important to us is that we do not want to kill classic narratives, but rather - with the help of technology - expand the possibilities of storytelling.

Use cases
As already indicated, we see Dynamic Audio as a natural progression from classic auditive formats, such as the comparison between a static PDF and a dynamic website.
from an editorial point of view, auditory content can be enhanced with personalized or data-driven content blocks, as e.g. an interactive map/graphic already allows in text-based articles.
Audiotheques can update older content without the need for production-related effort. E.g. by a combination of updating data sets, which in turn are recorded automatically with the help of text-to-speech.
personalised audio content can be played based on user data, e.g. user environment data can be integrated to build a visual link to the audio content.
new radio play formats with an interactive and personalized added value for the listeners
Outlook
With Social Score, we have created a first, tangible variant of our Dynamic Audio format. Now we are looking forward to a strategic and conceptual development with cooperation partners from the fields of journalism, society and culture.
Technology
Integration into editorial workflows / infrastructures
Building Kit / Storytelling Platform as an independent tool
new integrations of data sets and contents
extended functions to improve the user experience
Voice control
Format
guided local walks
dynamic format without GPS
Possibilities of interaction with other listeners
We welcome feedback and suggestions for improvement, as well as specific questions regarding cooperation / further development of the existing format: hello@sansho.studio